Fitting Guide
The ideal rug does not just look great but fits perfectly in your environment to enhance and complement the entire look of your interior space. Its interesting how the right size of a rug influences the dynamics of any room.
Tips
Measure the room. and outline the area where the rug is to be laid out (maybe with masking tape). Check every doorway and see how it opens. If there is a confusion pertaining to the sizes, make sure you choose the rug that is larger in size – this gives you better scope to fit in the area.
There should be about 18-20 inches of bare floor around the . This classic rule works for most rooms. If your room is smaller, you can leave less space. the main point being maintaining proportions of the space.
A frequent question that often pops up is whether to keep the legs on the rug or off it. This can work either way and whatever you choose ensure that you are consistent with it. Ideally, all legs should be on the rug,
Rugs can create an illusion of space — utilise this feature to work for you. An undersized rug makes the room appear small and disconnected. When in doubt, go for a bigger size. It'll unify the furniture and make the room appear bigger than it actually is.
If you have a small rug that's your favourite but too small for the room – layer it - lay it as an accent on top of a more neutral rug, like flatweaves or sisal/jute rug that's the correct size for your seating area. This makes the room look nice and the small rug is easily incorporated in the space.
---
Living Room
In a living room, rugs help to pull a space together, add warmth and comfort, and muffle noise. Selecting a rug size for your living room depends on the size of your room as well as your furniture arrangement.
All legs off the rug
When you've got a smaller living room or prefer to keep all of your furniture off the rug (except for a coffee table in the center), go with a 5' x 8' rug.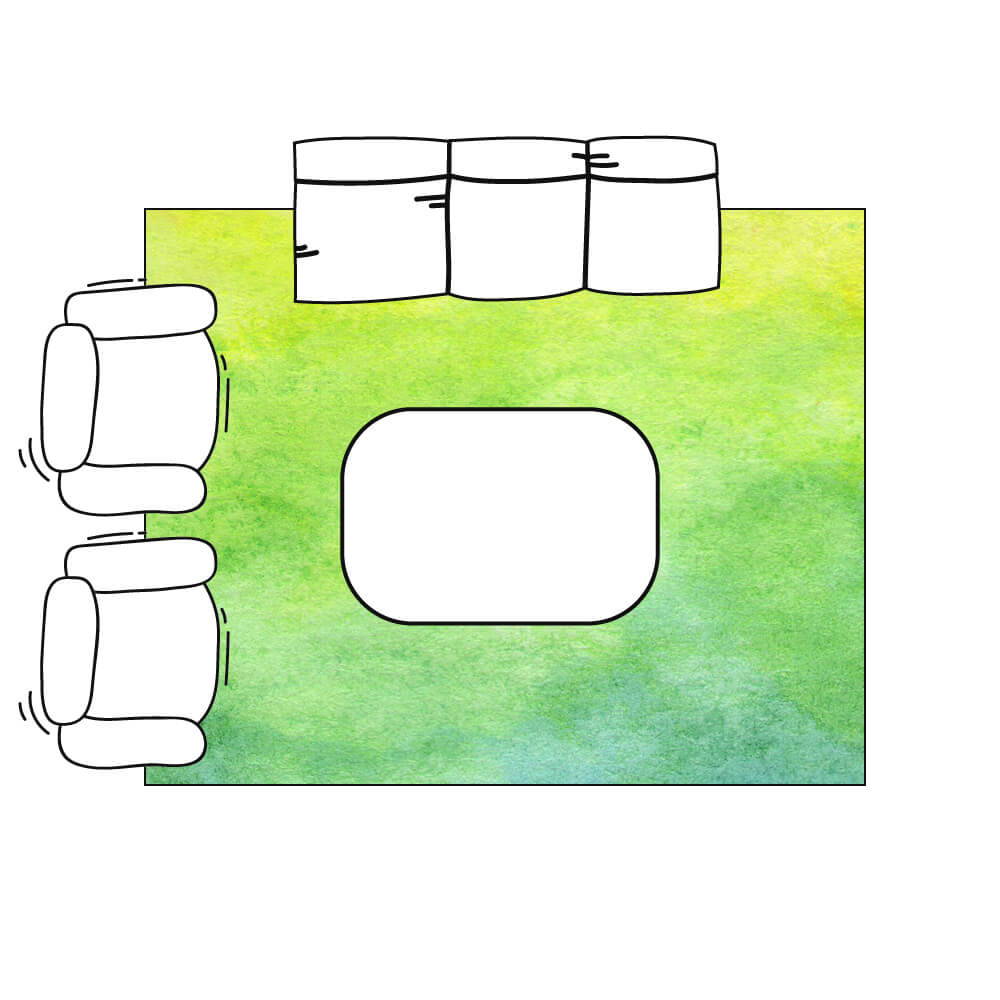 Front legs on, back legs off
This is one of our favorite size for the living room. With this size, you'll most likely have all front legs of the funiture on the rug with the back legs off. Or just some of the front legs will be on the rug. Either way, this size connects the various place together and creates a good sense of proportion.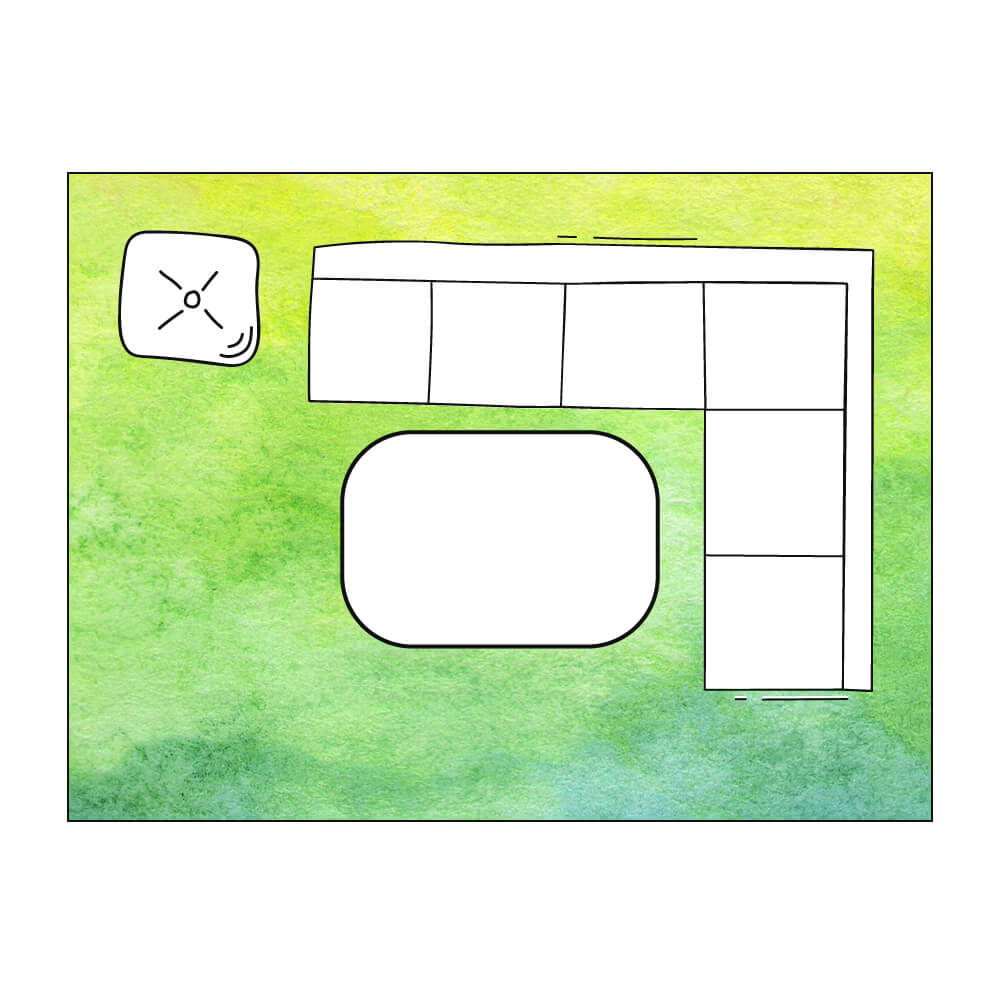 All legs on the rug
This size generally pulls the furniture together and define a space.
---
Bedroom
In a bedroom, the size of your bed and the floor area that surrounds it will dictate what size you should select. Place a large rug under two legs of the bed and make sure the floor is visible all around the bed. The rug should extend at least 24″ in length and width from the edges of the bed. That way, when you get up in the morning, your feet will be on the rug.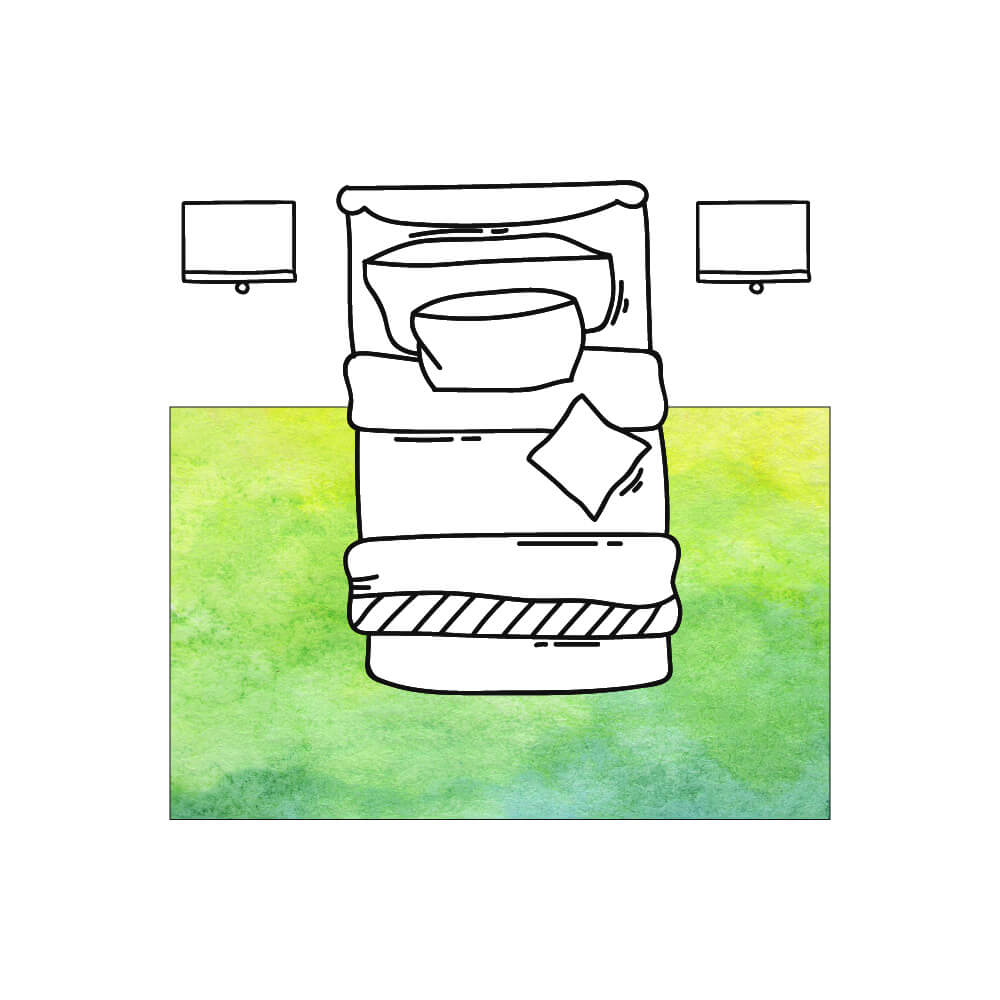 Full Size Bed
Laying the rug horizontally under the bed is your best option here. You certainly want to have some of rog exposed on the top too. Let your room size and personal preference dicate just how much rug you want showing at the foot of the bed.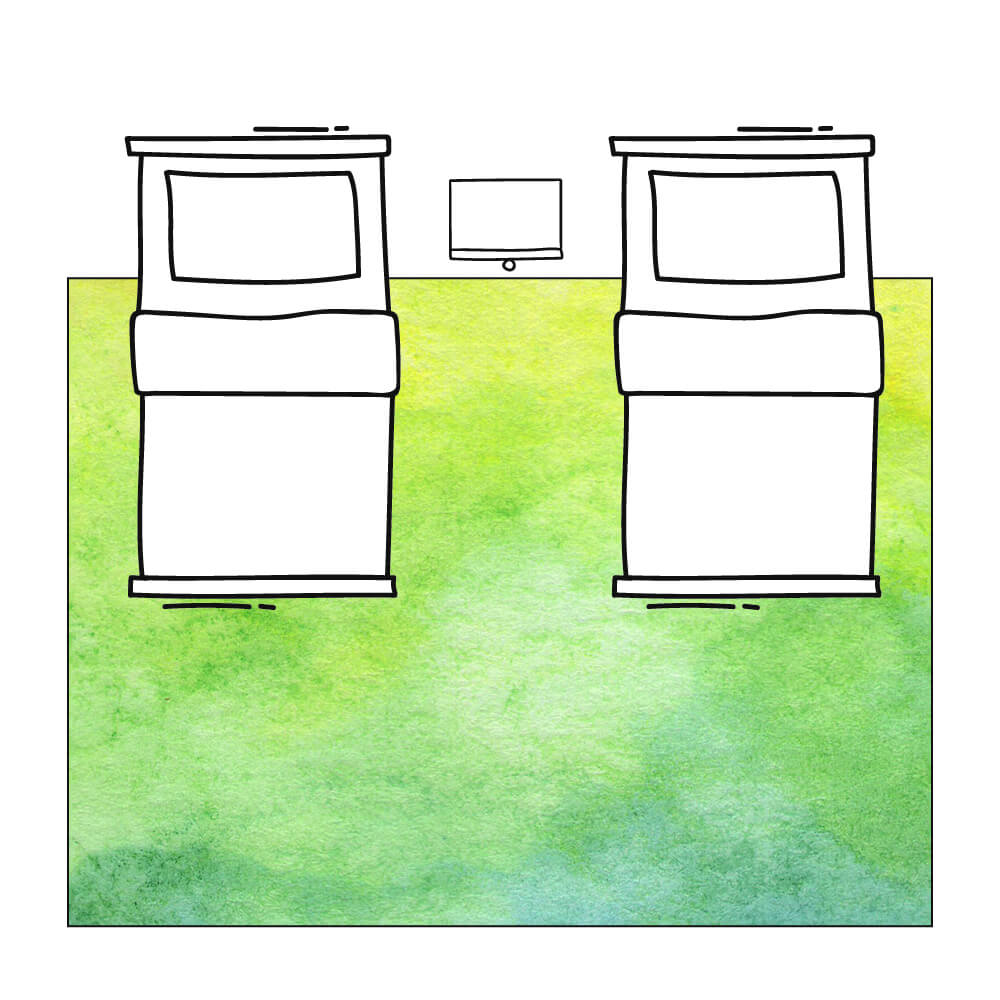 Twin Size Bed
Since twin beds are small take the bed's positioning and overall size of the room into consideration. And if you've got two twin beds in the same room, a9' x 12' works wonderfully for pulling the look together.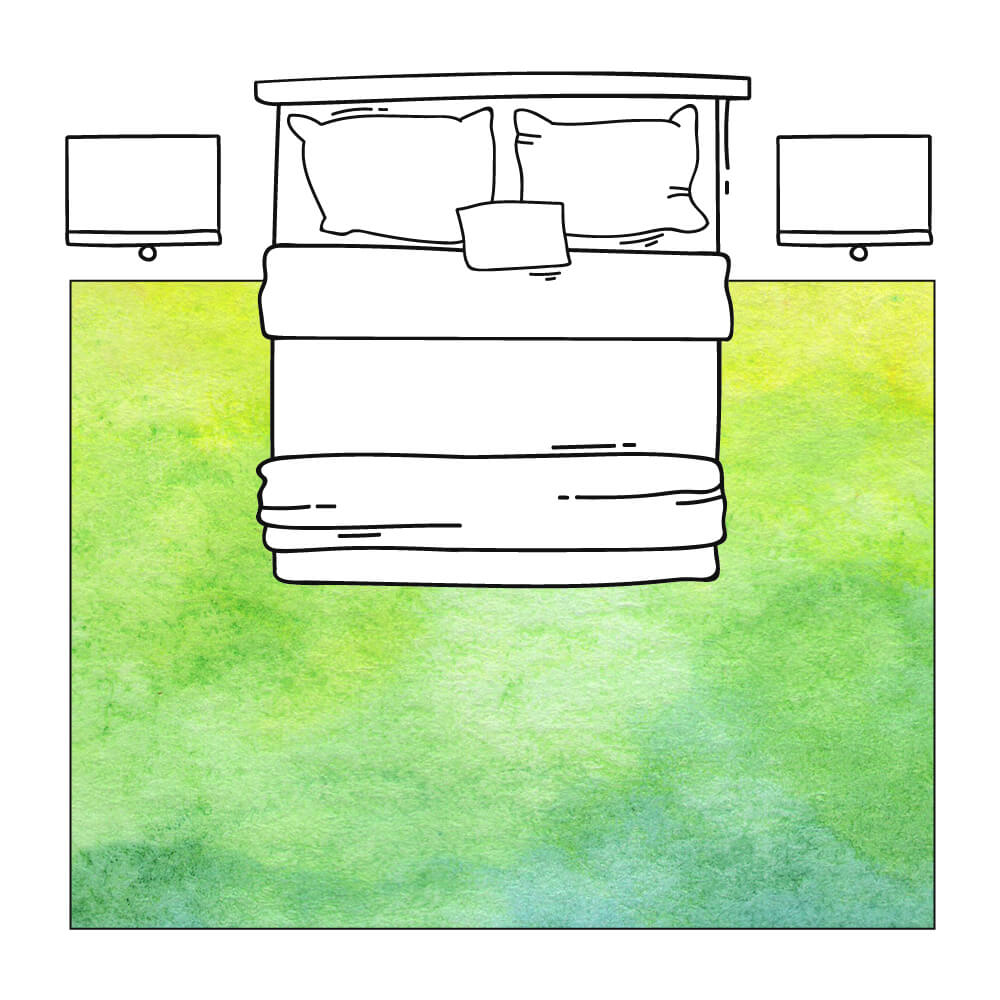 Queen size Bed
Just like full size beds, you'll want to layer a rug horizontally under the beds. Both an 8' x 10' and 9' x 12' will work, but remember the larger rug has the effect of making your room appear bigger.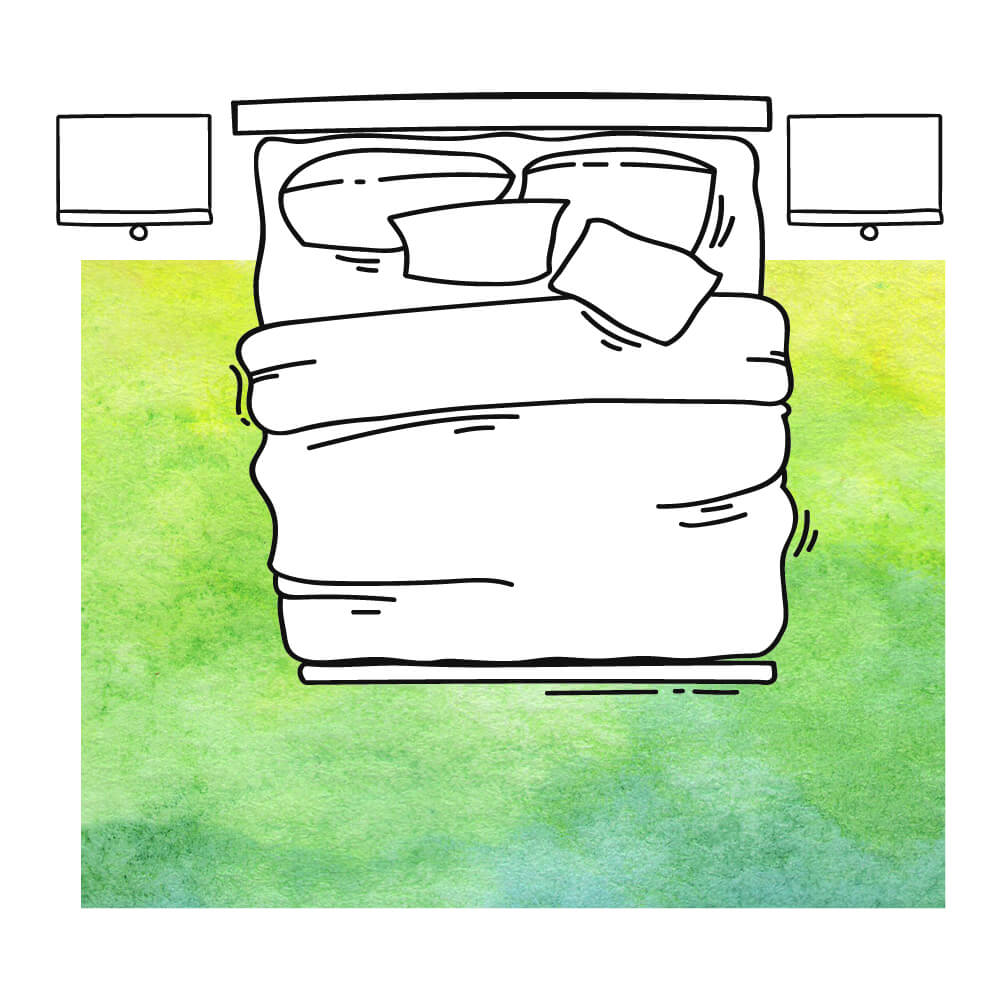 King Size Bed
A king size bed call for at least an 8' x 12'. Anything smaller will appear out of proportion.
---
Dining Room
In the dining room, make sure the rug you select is big enough for the legs of the chair to sit comfortably on the rug — even when they're pulled out for people to sit at the table. To make this easy, look for a rug that extends at least 24 inches around the table. And remember to keep at least 18 inches of floor exposed around all sides between the rug's edge and the wall.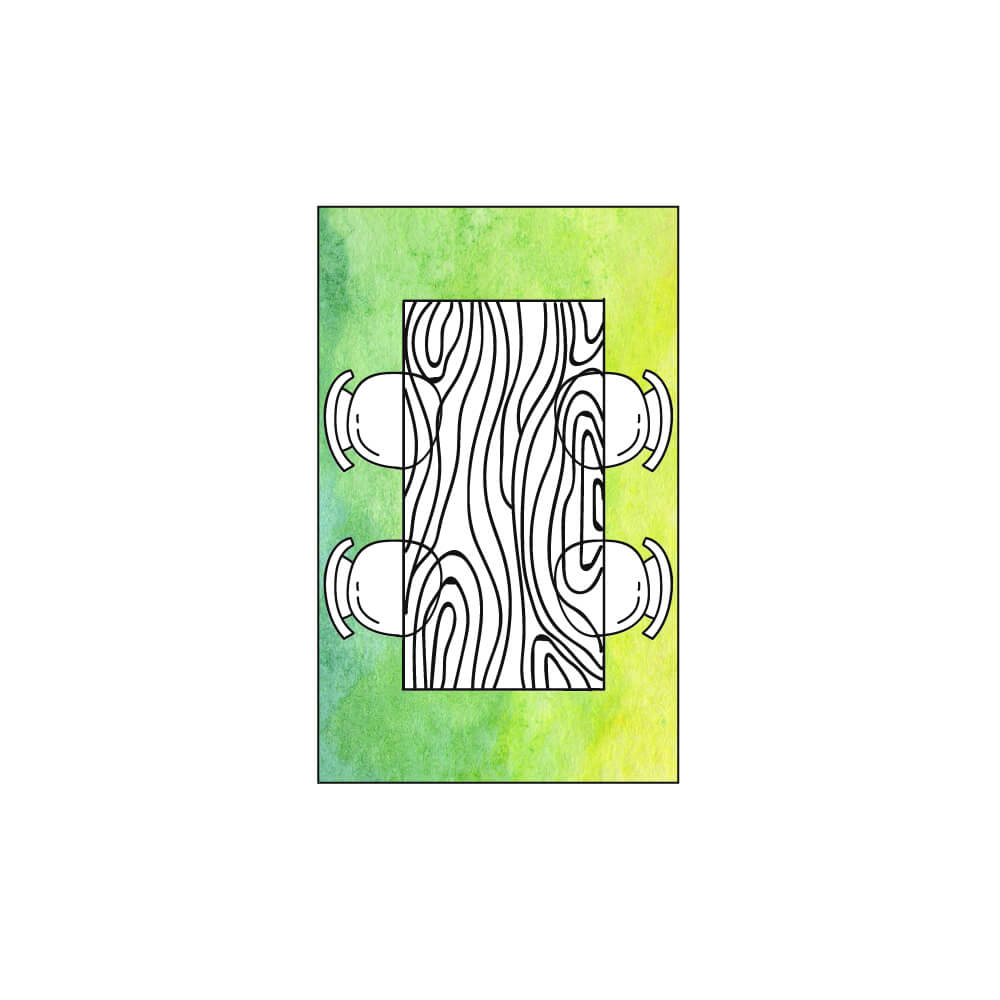 Four Chairs
5' x 8' Rugs are a great choice for smaller sized dining tables with 4 Chairs.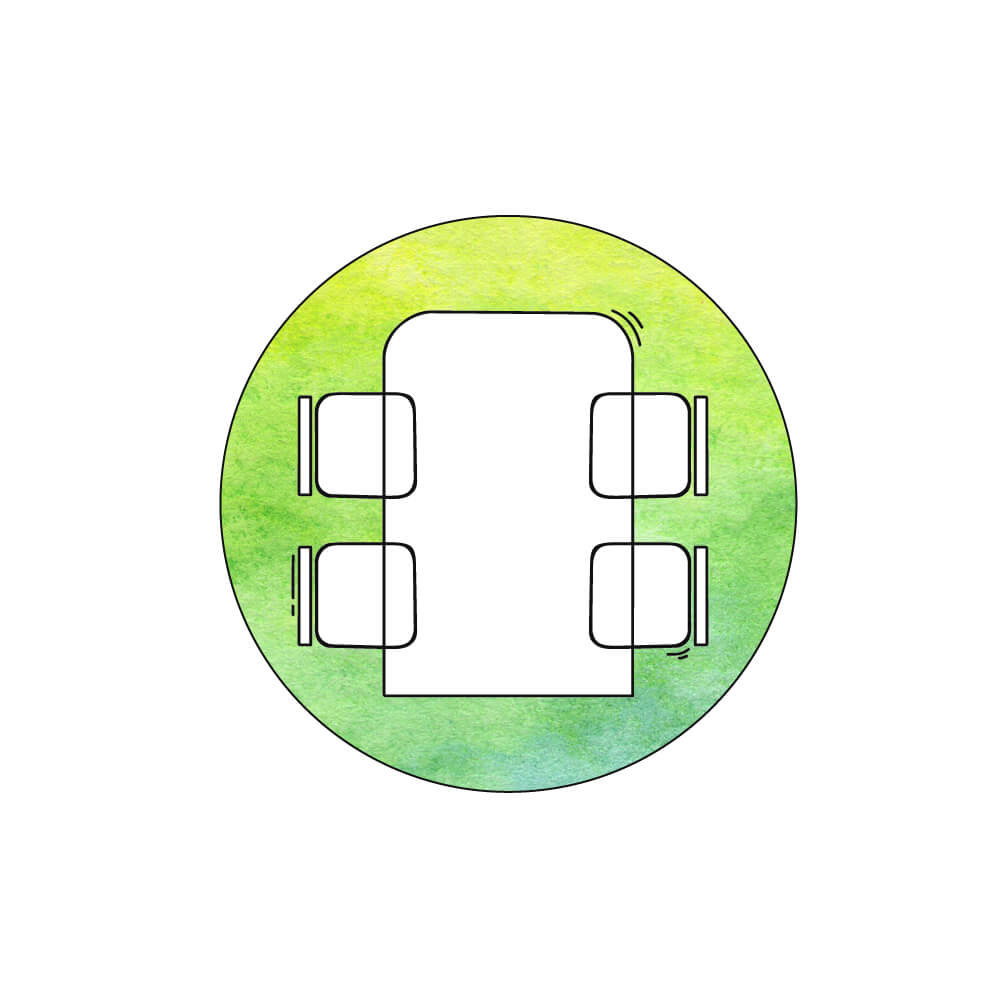 Four Chairs
5' x 8' Rugs are a great choice for smaller sized dining tables with 4 Chairs.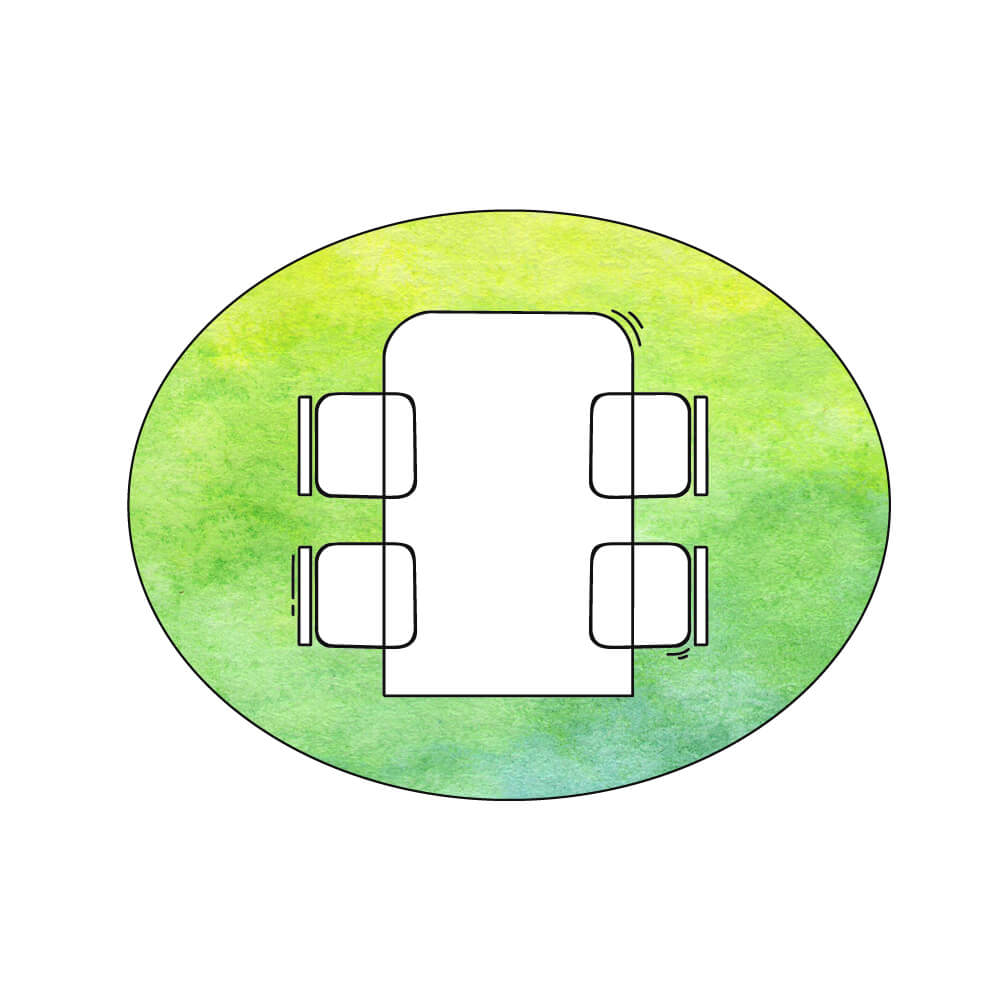 Four to Six Chairs
Regular rugs work under rounds tables too, but a round rug is a better match.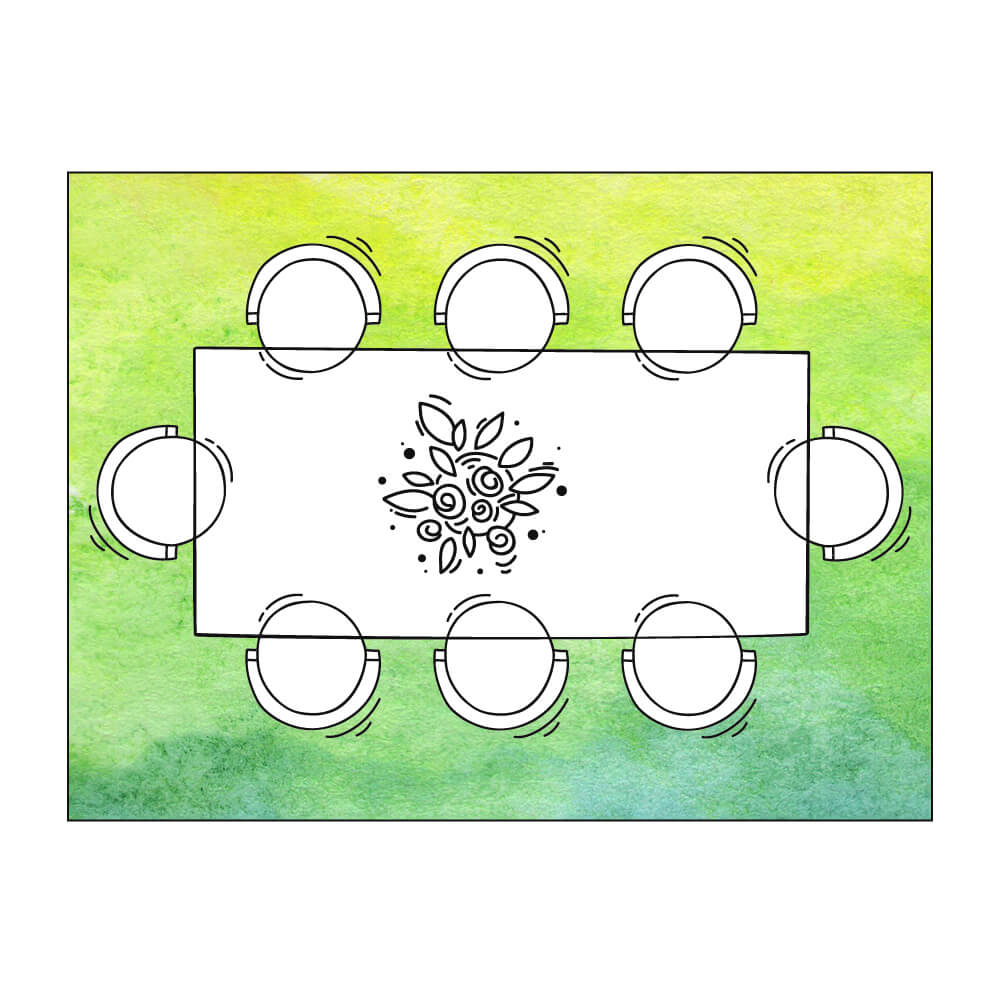 Six to Eight Chairs
Typicaly a 8' x 12' rug will work under a dining table with 6 to 8 chairs.
---
Patio
Just like selecting a rug for your living room, you must consider the scale of your patio furniture arrangement before selecting a rug. One of the most underrated benefits of indoor/outdoor rugs is their ability to unify an outdoor furniture arrangement, which allows us to create a cohesive look in an open space.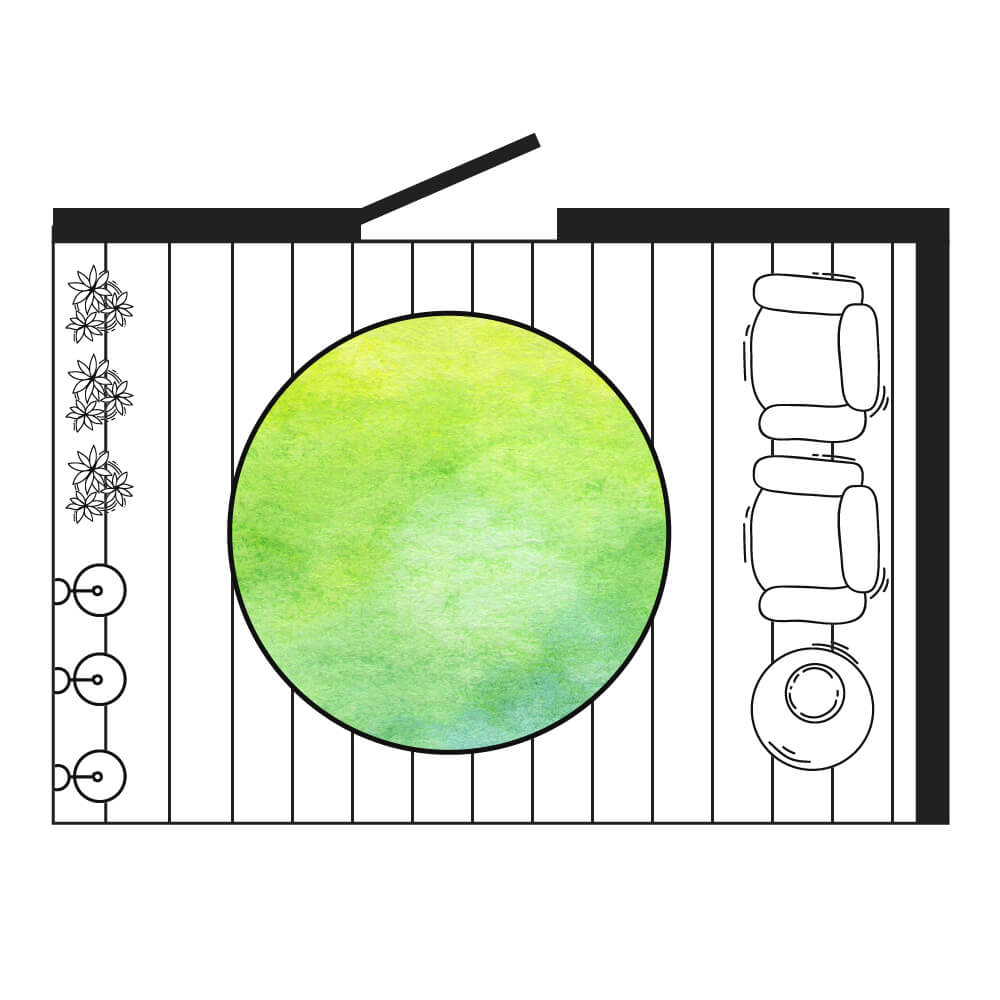 Indoor Outdoor Mat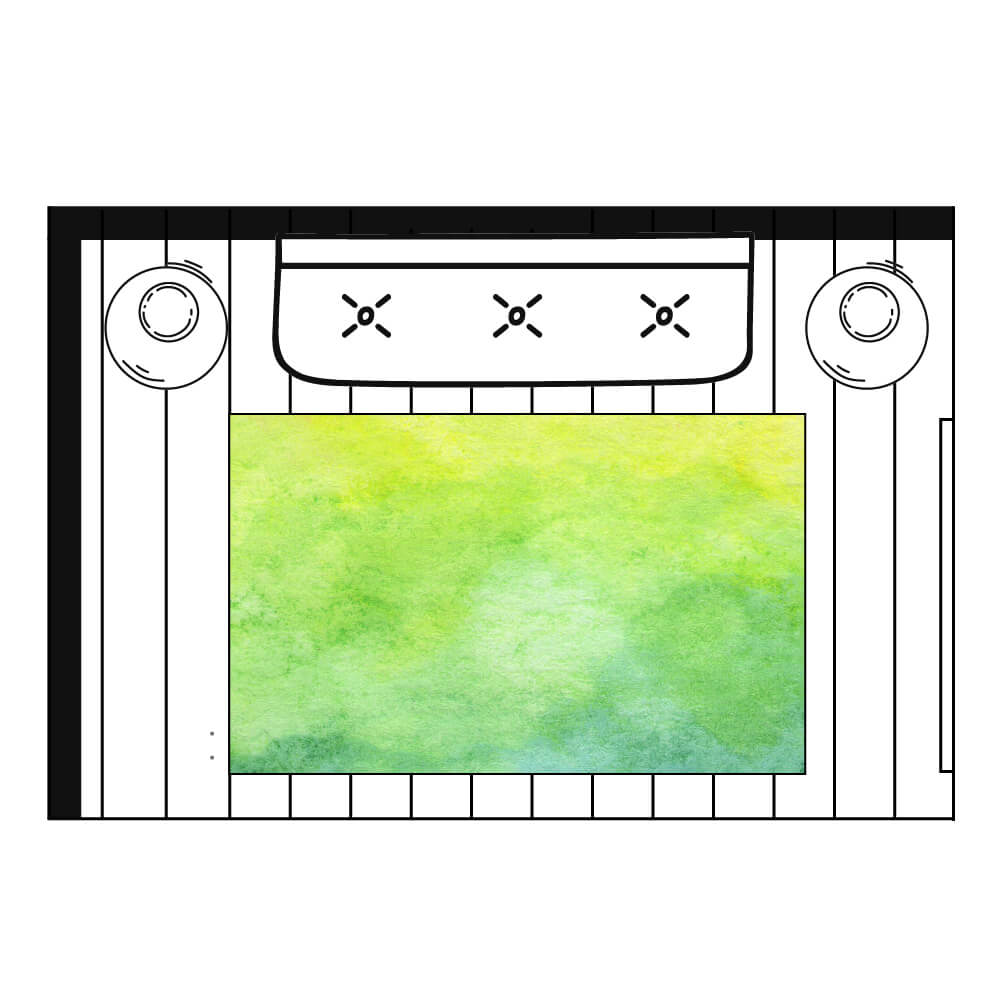 Indoor Outdoor Rug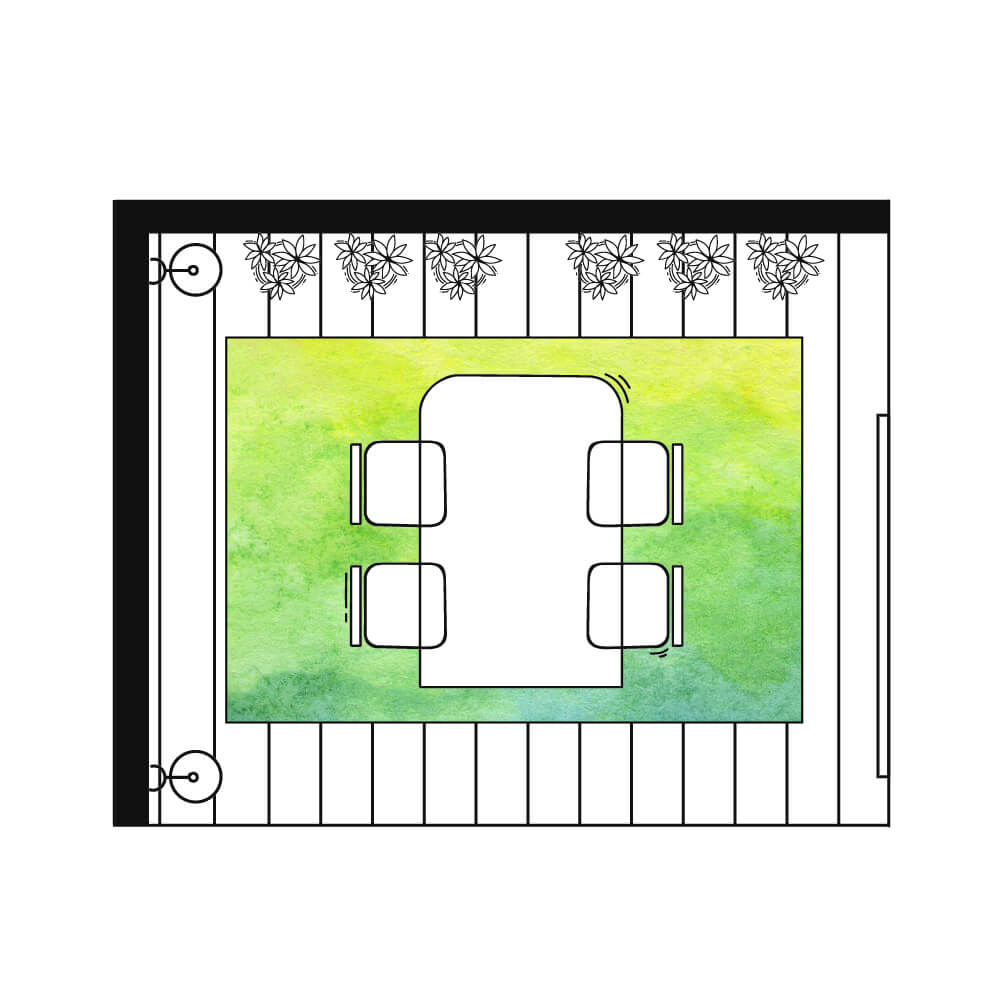 Indoor Outdoor Mat
---
Rug size for entryway and hallway
Entryways and corridors can be made much more inviting with a vibrant contemporary rug. If your home has a long narrow entrance hall one of our Rainbow Runners will make a welcoming first impression. If you have a large rectangular or square shaped entrance hall this is an ideal location for a larger vibrant colored rug to welcome visitors such as Deep Sunset, After Matisse, Bubbles etc. Go as large as you can while keeping a border of floor showing for at least 4-8inches/10-20cm.